ATTENTION: It's time to get up and pack up because Activate Summer Camp is here!
You are reading this letter because you decided to make a spiritual investment in your life by going to Activate High School Summer Camp! The theme for this camp is UNASHAMED, based on Romans 1:16, "For I am not ashamed of the gospel, for it is the power of God for salvation to everyone who believes…"
It's our desire for the young people of God to rise up and reach out with the gospel. We want to challenge and commission students to live out their faith and share their faith with a dark and dying world. We want to be bold with the gospel and make a stand for Christ and His kingdom in every area of life. We want to be unashamed!
We have a great weekend lined up, with special guest artists Phil Wickham and Sunset Pilgrims, along with worship from the Activate Worship Band. Get ready to hear the Word, because we will hear life-changing messages from Pastors Steve Wilburn, Ronny Roa, and Daniel Hooper. We hope you are ready for an incredible weekend with Jesus! Here are some logistics that you need to know:
Balances were due on Wednesday, August 22. If you haven't turned them in, please do so A.S.A.P. and also turn in your release form because you can't go to camp without it.
You must provide your own transportation to and from camp! (See the map at the end of this post; please contact us if there is a problem: 951.687.6902 x297).
Check-in: Friday, August 31 from 4:00 to 5:30 P.M. Dinner will start at 6:00 P.M. (You may check in later if necessary.)
Check-out: Monday, September 3 from 12:00 to 1:00 P.M.
A few things you will need for the weekend: Bible, sleeping bag or bedding, towels for bathing, swimming, and baptism, toiletries, jacket, flashlight, and cash for the snack bar.
When choosing your clothes, keep in mind the dress code. Girls, no spaghetti strap shirts, short skirts, daisy dukes, or two-piece bathing suits without a shirt. Guys, no Speedos (for all our sakes)!
Please try to leave all your electronic attachments at home; God doesn't want any competition for your attention and there have been items lost in the past!
Contact phone number for emergencies only: 951.205.8100
Our prayer and desire is to serve you at this camp and we promise that you are going to have a blast! You are going to meet new people, build stronger friendships, and make lasting memories. But most importantly, you are going to have your life impacted by the God who created you and loves you, and who showed His love for you by dying on the cross so you can have life in Him! Get ready for UNASHAMED at High School Summer Camp 2012!
Need directions to Camp? Click and print the picture below: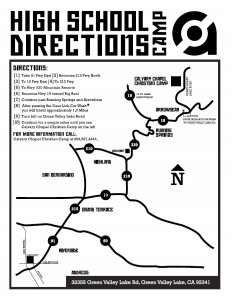 God bless you,
Pastor Daniel Hooper and the High School Staff