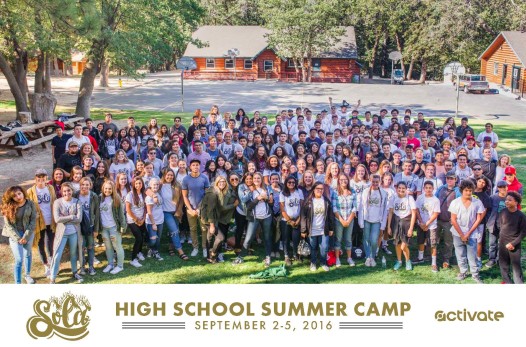 Our desire for this camp was to give our students an opportunity to be refreshed, not only by the mountain air, but more importantly, in their relationship with Christ as they head into a new school year.
Friday night we kicked it off with the band "Urban Rescue," which set the tone for the weekend. Our own Activate Worship team carried us through the weekend, leading us in song and praise.
One of my favorite moments of camp was when Joe our worship leader gave the students an opportunity to bow before the Lord saying "only if you feel comfortable kneel before the Lord" within in the next few seconds the whole room knelt in worship and prayer. This was impactful to watch and be a part of the Lord working in the lives of high school students.
It didn't stop there.
Our camp theme was based off of the 5 Solas: scripture alone, grace alone, faith alone, Christ alone and God's glory alone. The theme itself was mostly unfamiliar to the students; however, they have acted as critical truths that preserved the Christian faith during the protestant reformation and today's evangelicalism.
These 5 subjects were taught and integrated into our camp as we dove into the Word holding to its authority. And by this it strengthened us in the understanding that we are justified by Grace alone through Faith alone in Christ alone for God's glory alone.
These truths allowed each message to work its way through the hearts of those who listened, making our time at camp transforming.
From Worship, to the messages, to the fun activities, we are excited to say we had a successful retreat! Students and leaders were both revitalized!  And now, coming down the mountain, our hope is to keep the students engaged in a Gospel-centered community where they will grow in their knowledge of Christ.